Preschool & MDO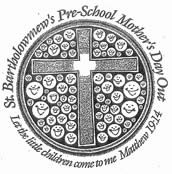 When asked what word best describes St. Bartholomew's Preschool / MDO Program, most often remark that the program is "authentic". As you roam the school's halls, you quickly realize that what you see being taught in each of the classrooms is more than traditional preschool lessons – it is Jesus' love in action.

We believe that Jesus has a great love for children. In the Bible, Mark tells us that Jesus took the children in his arms, laid his hands on them, and blessed them. We desire that the children in our program see this kind of love flowing through us and understand that this love comes from Jesus.


Our mission is to offer church members and the community a program that provides the best early childhood education in a Christian environment of love and support. We strive to help the each child grow in body, mind, and spirit.

We encourage you to "sneak a peek" into our program and see what St. Bartholomew's Preschool / MDO Program has to offer your family.
St. Bartholomew's Church
Preschool / Mothers Day Out
Suzy Floyd, Director
4800 Belmont Park Terrace
Nashville, TN 37215
373-4633