Visiting
Welcome to St. Bartholomew's. We hope you will spend some time looking around our website, but more importantly, we hope you'll come visit in person.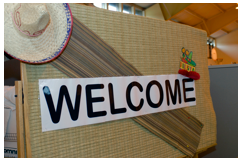 Photo: Katherine Bomboy
If you visit on a Sunday, we especially invite you to introduce yourself to the Sunday morning greeters at the Visitors Table as you enter the Narthex. They have folders of information to give you as well as a loaf of bread. We encourage you to fill out a visitor form in the folder you'll recieve (or on the back of the pew) and turn it back in to the greeters on your way out after the service.
If You're New:
We invite you to check out our Who We Are and What We Believe pages for more information about our family. Further resources can be explored through the links at the right.
Twice a year we offer a "St. B's Basics" class. It is a four week class taught by Fr. Dixon from 9:45 - 10:45 a.m. on Sundays specifically for newcomers. Twice a year we also offer Anglicanism 101, an eight week class taught also by Fr. Dixon on Wednesdays from 6:30 - 8 p.m. This class is the path for confirmation and "official" membership at St. B's.
We also recomend that you sign up to receive our weekly email informing you about what's happening in and around our community. We also send out a daily devotional email with scripture readings for the day and a reflection written by members of St. B's. To sign up for either of these emails. Please contact .