Jazzercise
Jazzercise classes, led by Mary Helen Yarborough, take place many days a week in the St. B's gym.
Jazzercise is a jazz dance-based program that combines yoga, kick boxing, Pilates, weights and funk.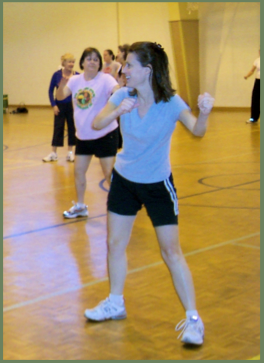 Photo: Annie Heyward

"We dance, and even if you can't, you just have fun. The old saying, 'Music moves you,' is so true. We have a blast," according to Mary Helen.
Class times are:
Monday 5:30 - 6:30PM
Tuesday 9:30 - 10:30AM & 5:30 - 6:30PM
Wednesday 5:30 - 6:30PM
Thursday 9:30 - 10:30AM & 5:30 - 6:30PM
Saturday 9:00 - 10:00AM

(Morning classes offer childcare, for $2 per child)